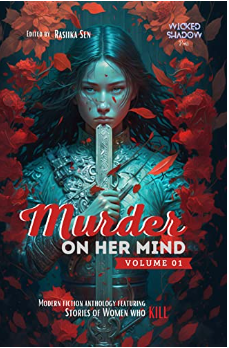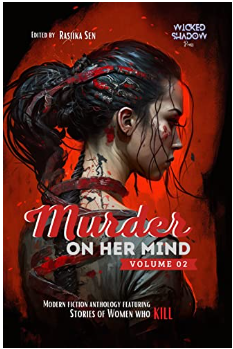 My horror short story You're Not Wrong is featured in the international anthology Murder on her Mind Volume 1 from Wicked Shadow Press. Also, Murder On Her Mind Volume 2. (Amazon affiliate links).
The story is about a single-mom burnt out by the demands of life, takes matters into her own hands. Written in an eerie second person point of view, I wanted to immerse readers in a character that doesn't have control over her life from a bug caught inside her head to a toxic corporate boss. In writing this story, I reflected upon the parents' struggles, challenges with my ADHD symptoms during the pandemic, and knowing that everything will turn out just fine. Would you trust the voices in your head?
The anthology explores diverse contexts and motivations for a heinous act. "Sometimes, a woman is simply forced to pick up a weapon, to defend themselves against an abusive partner, or to fend off a creep. Women, a prototype for every Goddess in mythology, also kills to protect. A mother can never go too far to protect their children. Sometimes, it is a spontaneous act. Sometimes, it can be a cold blooded scheme to gain freedom from a complicated situation. In other cases, the reason could be as simple as revenge! Then there is the femme fatale, the woman with a license to kill who doesn't mind getting her hands dirty for national security, or maybe a bag full of cash. Finally, there are the anomalies – the closet sadists or full blown psychopaths, whose taste for a kill can be satisfied in no other way." Text taken from the anthology call for submissions.
Other authors features in the two volume anthology are: Volume One are: A. Joseph Black, Andrew Kurtz, Anna Hallett, Destiny Eve Pifer, Dibyasree Nandy, Ed Friedman, Fariel Shafee, John Di Donna, Jonah Jones, Lawrence Dagstine, Lorina Stephens, Maggie D Brace, Matt Martinek, Pauline Chow, Rob D. Smith, Robb T. White, Robert McDermott, Seán McNicholl, Stephanie Scissom, Tanja Cilia, Toshiya Kamei, Urmi, Abby Andresen, Ami Thompson, Arthur M. Doweyko, Caitlin A. Quinn, David Rae, Diana Lee Woody, Erik Cederblom, J. Rocky Colavito, Jacek Wilkos, JP Relph, Kate Bergquist, Kay Jones, Kevin Brown, Laury A. Egan, Marija Brincat, Ngo Binh Anh Khoa, Seán McNicholl, Warren Benedetto, Yağmur Ali Coşkun, Zoe Stanton-Savitz